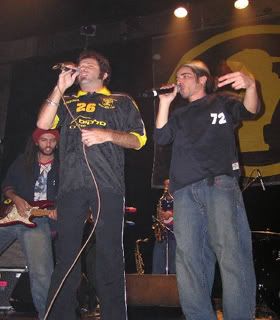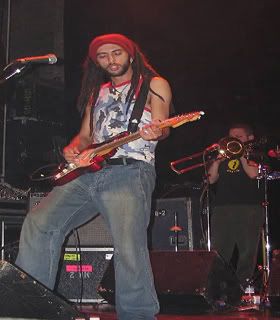 Sunday night we went to see Hadag Nachash at the House of Blues. We're not big into Israeli music but over the past few months we have become huge Hadag phans.
We "obtained" all 3 of their albums:

Hamechonah Shel Ha-Groove
Lazuz
Chomer Mikomi
I'd have to say that all 3 of their studio albums are 100% solid from start to finish. The music, the samples, the rap...all excellent.
We didn't realize until we got there that it was an all ages show, so it was packed with kids. At one point my wife and I looked over and noticed at the exact same time 2 kids probably 16 years old sloppily making out. It was pretty disgusting.
Hadag proved to be an incredible live act. There amazing positive energy combined with the amazing sound quality of the House of Blues made for an unforgettable show.
We ran into Velvel and Becky at the show when he wasn't mingling with VIPs.
Hadag Nachash English lyrics here. Website here. Pictures here. Velvel review here.