So the long awaited Knishmas concert was last night. For those who don't know what Knishmas is, it was a basically a long night of musical celebration that we are Jews....on Christmas. The concert was produced by Kfar Center.

So the advertised lineup was as follows:


The concert cost $20 a ticket, for 6 hours of good Jewish Music. Great. I was really excited about the concert but I not until it was over could I let out a big sigh of relief. See, I had many on my mind. Firstly, was my wife going to be able to sit through this entire concert? This was a big if. She had seen about 70,000 Even Sh'siyah shows with me already and I wasn't sure she could do another one, let alone 4 other bands. She did wonderfully. She had some friends there, and she enjoyed the music very much. Plus, she new how freekin excited I was, and I think that that helped.


My next worry had to do with Blue Fringe. Where they in-fact going to show? Last week I had tickets to a Kfar sponsored Soulfarm show, and a week before the show was informed that Soulfarm wasn't going to be there and that the show would carry on with Rebbesoul. No offense, but FUCK Rebbesoul. Soulfarm is one of my favorite bands lately and I was freeking pissed. Now, Kfar was promising Blue Fringe, another one of my favorite bands. Blue Fringe was in-town to perform for an NCSY convention in Itaska. The likelihood of Blue Fringe showing up in downtown Chicago on a Saturday night AFTER a gig in Itaska, seemed pretty small to me. Aside from the fact that it's far as hell, I know that often when an organization brings in a big name band, they don't like when the band plays somewhere else in town. It's usually in the contract.


I was also quite nervous for my boys at Farbringiton. I think I have been to all of there shows (5 of them?). They are a very new band and they weren't so tight until very recently. Recently they lost one of their founding members and talents to corporate America. Yosef Nathan was replaced by guitar prodigy Aryeh Goldsmith who is 'metal as hell'. They have some great originals and great covers but they needed more growing together as a band. This past Friday there was a full page feature article and picture on Farbringiton in the Chicago Reader. I'm not sure how they got this article since the band is new and relatively un-heard of. They have had 5 gigs and zero recorded tracks. However, the article was very complimentary.

Well, the acapella group was gay as hell so I won't even waste my words on them. Next, was Even Sh'siyah who rocked the house. This was one of their best shows in a while. I think when these guys play in a bar/club setting the energy is better than the energy at their usual shul gigs, and the REALLY open up.
Next, was supposed to be Yuri Lane who I've heard was pretty hot shit but he didn't show.

On to Farbringiton. Awesome! By far the best gig I've seen from them yet. Last night they were tighter than Dick Cheney. Singer Shneur Nathan had incredible command and control over his voice, and really proved himself as a singer. Upright Bassist Neer Spinner was excellent. I heard Blue Fringe in the crowd complimenting his skills. I LOVE Zev's Aishet Chayil song that he wrote for his wife Becky. Excellent. Last night Fargbringiton was the highlight of the show for me....until Blue Fringe came up.....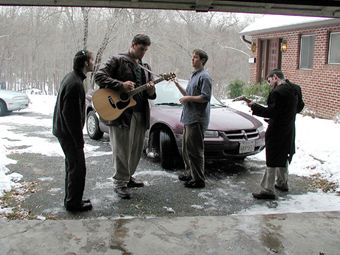 By 1AM most of the old people who were taking up the tables all night had cleared out of the place and Blue Fringe came on stage. My wife and I were sitting next to the stage. I think I might have even had my feet resting ON the stage. They played 3 songs from their album; City of Gold, Kacha Lo, and Shma Kolanu which I requested. They did their segue into Phish's First Tube, and they did a sweet cover of Stevie's Superstition adding that "Danny (the drummer) loves Stevie). They also played the Shidduch song which is a hidden track on their first album, My Awakening.

So Knishmas turned out to be a huge success. Thank you Kfar for a kick-ass night. Now let's get Soulfarm here, eh?